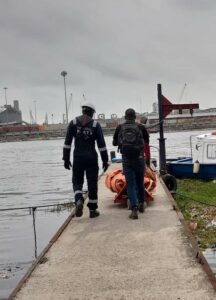 Job Description 
Two of our engineers were deployed to troubleshoot two offshore cranes. The mechanics on board had been trying to fix the fault for several days – to no avail – before we were called in. First, you got an overview of what the problem is and what has already been investigated. Then, with the help of the circuit diagrams, the errors were systematically analyzed and eliminated. Both devices were ready for use again after a short time.
Our Service
Industrial Ports provides a lot of service solutions for all types of cranes including installation, repairs, modifications and upgrades through our dedicated team of engineering specialists. No matter what type or brand of crane you operate we have the track record to guarantee a fast response and effective solution to meet your requirements precisely.
Operation Area
We offer our service onshore and offshore throughout West Africa from Dakar, Senegal to Lobito, Angola.