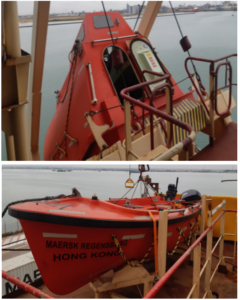 Job Description 
Last week one of our Engineers took out an annual lifeboat Inspection on a freefall lifeboat. On the picture you can also see the rescue boat we checked and certified. Here we worked on equipment from Hatecke and Global David. Our Team is also trained on other manufacturers e.g. Hyundai.
This lifeboat service we made in Pointe Noire, Congo. We offer our lifeboat-,  crane services and inspections all over West Africa and we give our best to keep the travel cost low.
On this vessel the class ABS was required, which we cover.
Note
Maybe you are interested in a load test for a crane or lifting equipment? Our team will help you with technical support and organisation.
Our Claim
Customer satisfaction is very important to us. Following an inspection, we ask for customer feedback. The customer was very satisfied with our service and recommends us to others.